We Do Books - the Ultimate Accounting Experience... see how we compare to the alternatives!
Triple Team Advantage
At WeDoBooks, we pride ourselves on our uniquely developed process which allows us to provide a three-pronged approach to all your accounting needs while providing extensive CPA professionalism and care all at low bookkeeping rates through our local offices and dedicated staff. This allows you to spend more time running and growing your business while we take care of the rest.
Dedicated Relationship Manager
One contact for all your accounting needs.
Dedicated Bookkeeper
We make it a priority to understand your business.
Dedicated Team of CPAs
Unlimited consultation with industry specialists. No hidden fees.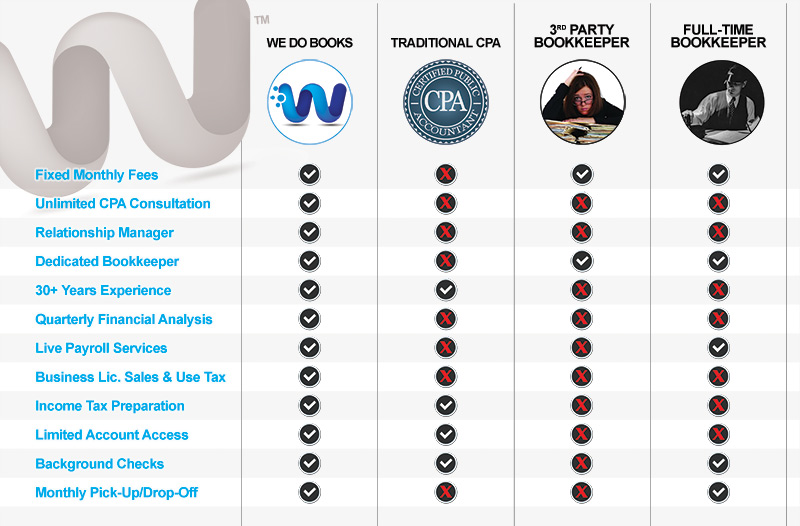 ---
Plus, our firm is regulated by the State Board of Accountancy. Which means our professional staff is required to pass strict education, examination, ethics, continuing education, and background check requirements. It also means that we must maintain sufficient levels of insurance coverage at all times.
To complete our work, we also only request limited view-only access to your financial accounts, so you can rest assured that your accounts remain secure.
---
Do you really know who your bookkeeper is?
We train our clients... A locked door is there only to keep the honest person honest... the thief does not need an open door. The lock is essentially a means to remind the honest person it is wrong. For a CPA (Certified Public Accountant), there is an oversight Board that each State has established to monitor the CPAs, requiring them to maintain education and undergo a Review process every few years. This is, among other reasons, why the CPA is regarded as the Most Trusted Adviser. WeDoBooks is a CPA firm, that is governed by the State Board and through its unique process enables our clients to pay rates similar to bookkeepers, while maintaining all the assurances that a CPA firm can provide.
So, is the local bookkeeper bad?
Here's what we found in our research. The results may shock you…
The FBI (Federal Bureau of Investigation) has hundreds of cases on their website that are specifically a result of bookkeeper wrong doing. Yes, your local bookkeeper has no oversight, therefore they often become the thief! Even an honest person can be tempted beyond self-control when there are no locks...
Just Google terms like; Bookkeeper Theft, Bookkeeper Embezzlement, or Bookkeeper Stealing and you will find many cases of local bookkeepers who stuck their hands in the cookie jar!